Looking for fun vacation coupons that your kids can use on your upcoming family Vacay?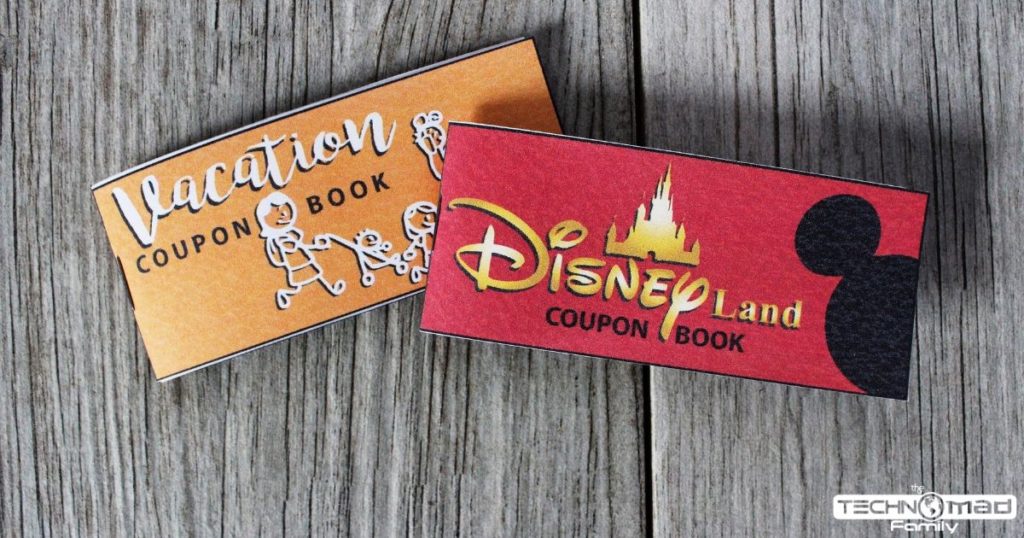 Today I am teaming up with 5 other awesome blogs to bring you 5 great Disney posts and…wait for it… A Southern California Vacation Giveaway! (so keep reading to the end!) For my Disney post I a sharing these fun printable Disneyland & Family Vacation Coupons that your kids can redeem with you for special items on your upcoming vacation.
I don't know about you, but whenever we are on vacation our kids start asking for anything and everything they see. It's cute but exasperating at the same time. I mean I want my kids to be excited and enjoy themselves but I have neither the money or inclination to buy them everything they see. Which is why I had my husband create these fun vacation coupons.
He designed both a Disneyland set (with coupons for ice cream, treat, balloon, toy. $10 Purchase, drink, choosing the next land to visit, choosing the next ride, picking a meal etc) as well as a general vacation fill in yourself coupon book.
This download is formatted as a ready to print PDF file. All you have to do is print the pages out, cut the coupons out, pick which coupons you want to include and then give it to each kid when you arrive at your vacation destination. This way rather than asking for everything they see, your kids get to weigh their options and decide what they want to use their coupon for.
It's a way to teach your kids to think about their purchases before they make them as well as to make the whole experience that much more fun.
Check out the 5 other Giveaway Co-Hosts and their Fun Disney Blog Posts!
I am so excited to partner with these 5 other awesome blogs and Get Away Today to offer the chance to win a Southern California Vacation for 2 (2-night hotel stay in Anaheim or San Diego
+ 2 adult 1-day Disneyland or SeaWorld tickets)
Enter to win on the widget below and make sure to check out the other fun Disney themed printables, recipes, DIY & Disney Bounding Outfit created by these other talented bloggers!
Photo Credit: thequietgrove.com
Count down to your Disney Vacation with these fun free Disney Vacation Countdown Printables over at The Quiet Grove.
Photo Credit: jamonkey.com
Celebrate the Lion King Movie with this delicious Circle of Life Punch. Get the Recipe over at JaMonkey
Photo Credit: www.redheadbabymama.com
Learn how to make your own Minnie Celebration Disneybound dress over at Redhead Baby Mama
Photo Credit: sunshineandmunchkins.com
Learn how to make your own Disneyland Autograph Book over at Sunshine and Munchkins
Photo Credit: mylifebygogogoff.com
These Mickey Mouse Sugar Cookies are easy to make and oh so delicious. Get the recipe over at My LIfe By GogoGoff
Now for the fun part. As I said I am teaming up with 5 other bloggers and Get Away Today to bring you this a Southern California Vacation Giveaway (for 2-night hotel stay in Anaheim or San Diego + 2 adult 1-day Disneyland or SeaWorld tickets)
About the Giveaway:
This giveaway will run for 1 week Friday, July 26th through Friday, August 2nd.

You must be 18 years + to enter via the widget below.

The Winner will be notified by the following Monday and will have 24 hours to confirm their winning or another winner will be chosen.

The Vacation will be fulfilled through Get Away Today. The winner will have the option to upgrade at their own cost if wanted (i.e. extend their stay or add on tickets for additional family members).
If you haven't booked your Disney Vacation yet. I totally recommend going through Get Away Today. They have the best exclusive deals for both tickets as well as for nearby hotels. They even have a great layaway program for just $175 down. If you are booking for at least 2 nights hotel stay and 2 adult tickets use my code: Technomad to save an extra $10 off on your booking.
If you liked this printable than make sure to check out these: (click on the photos to go to the articles)
(Visited 445 times, 1 visits today)